Top Profesionals Backed by the Latest Security Technology
Dependable, Cost-effective & Customized Professional Security Services
Security solutions are at the heart of what we do at Servexo. Committed to safeguarding our customers and their assets, we have the tools, training and experience to provide the most reliable security services available. Our security service provides the much-needed peace of mind in today's relatively hostile world.
Servexo understands that organizations are under increasing pressure to maintain safe & secure operations while keeping costs under control. Our security solutions help you achieve that by tailoring a plan to your specific needs.
Adaptive Security Solutions
Our superior customization and adaptability enables us to provide you a very relevant security solution. By using a combination of personnel and technology, Servexo's services fit almost any budget. We conduct a risk assessment to formulate a comprehensive, cost-effective and reliable security plan that suits your organization perfectly.
A Professional Security Team You Can Count On
Servexo's personnel deliver a range of expertise in the execution of their duty that comes from decades of experience in military service or law enforcement. At the company's core are US veterans that have extensive background and training in anti-terrorism. In addition to providing general security services, our team is also well-versed in mediation and conflict resolution along with disaster training and emergency response.
The Modern Eye in the Sky
Servexo believes that offering our clients every tool available is critical in protecting your people and assets. That's why we are one of the first companies in the industry to offer drone technology as part of our integrated security solutions. Drones provide an additional flexibility to security that foot patrols or fixed cameras can't. Truly a one-stop shop for protective services, Servexo can make drones part of our proposed strategy. Why look at multiple firms when we can offer the total package?
Drone Security
Virtual Patrols: Our Drones can patrol autonomously (capable of being randomized to reduce predictability) or piloted by hand.
Equipped With: Deterrent mechanisms along with mobile device/desktop control per client needs.
Monitoring: On-site or from Servexo Headquarters, drone feeds can be monitored in real-time and/or recorded for future investigation or use as evidence.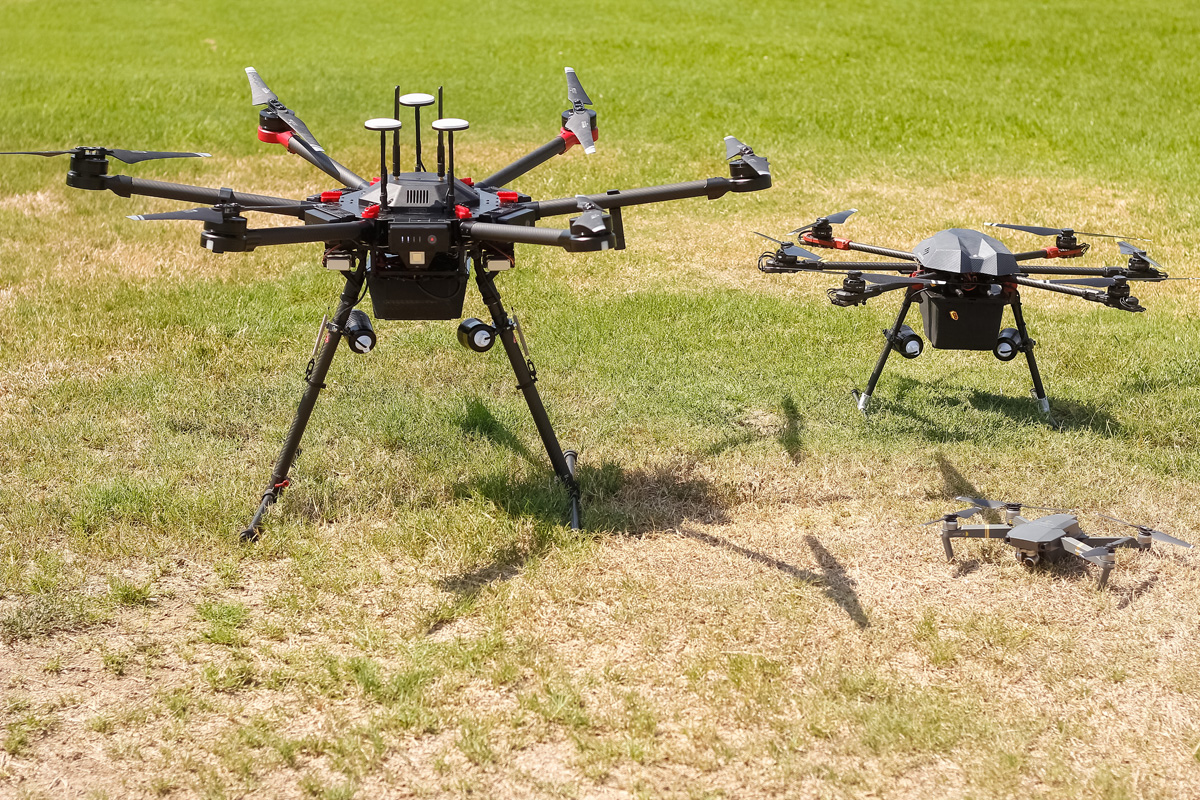 Drone Security Technicians
Servexo has assembled a team of industry-leading professionals to oversee our drone operations. This division is comprised of experienced engineers, programmers and pilots who ensure you receive the maximum benefits from this game-changing technology. Servexo's drone technicians offer the following services:
Integrated needs assessment to incorporate within broader security solution
Programming for patrol route and system functions
Maintenance and repairs (on-site or at Servexo headquarters)
Piloting or operations training for client use
Ongoing consultation on system advancements and regulatory compliance
Hi-Tech Times Demand Cutting-Edge Solutions
With today's rapid changes in technology, companies have to quickly adapt and integrate new methods or be left behind. The protective services industry is no different and Servexo is proud to say we are the forefront of adopting new technology to keep our clients safe. Servexo's men and women are your greatest line of defence, and we ensure they have the best tools to enhance that effectiveness. Below are just some of the latest innovations we include in considering our fully integrated security solutions.
Cyber Security
Countless intrusions take place every minute; some companies are prepared, but most are not. Servexo takes virtual security seriously and recognizes its critical place in your overall strategy. Keeping intruders out of your system and preventing information leaks are key considerations in the development of a cyber security plan. As with physical security, our team will start with a thorough risk assessment to determine your company's unique requirements. After implementation, Servexo can continue to monitor and react to cyber threats.
Biometrics
Biometric security continues to evolve at an incredible rate. With the first commercial hand recognition systems being available in the 1970's, the technology now encompasses dozens of other measures. Servexo is capable of installing and maintaining a wide variety of systems as part of your security solution. Retinal scans, voice print or facial recognition, signature and gait analysis, and more are utilized for identification and entry permissions.
Autonomous guard robots
For some of our clients, automated patrols are able to achieve their security goals. The robots are programmed to move through their route collecting video and other data (such as environmental conditions and wireless signals) while providing a visible deterrent to intruders. These units are constantly being upgraded with several features scheduled for integration, including gun detection and microphones to capture sound. With real-time notifications, your security detail can effectively respond to actual threats while being free to focus on other aspects of your protection the rest of the time.
Intruder detection
Servexo utilizes a wide array of technologies in developing an intruder detection solution. We'll work with you in determining a cost-effective strategy that takes advantage of the equipment available. From traditional CCTV and entry alarm systems to cutting-edge microwave and fibre-optic technology, Servexo integrates the systems you need to be secure.